2020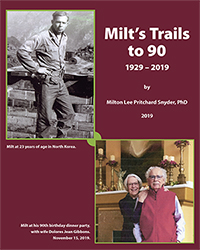 MILT'S TRAILS to 90: 1929-2019
8x10 inches.
Click here.
About Milton
Snyder, who was born in Weippe, Idaho in 1929, spent his early life on the farm and his education changed the course of his life. Following the death of his father, Milton Cooper Snyder, he moved to Lewiston, Idaho, graduating from Lewiston High School in 1947. He then received a BA in 1951 from Lewis Clark State College, known then as Northern Idaho College of Education.
Service in the Korean War, 1951-1952, interrupted Milton's educational plans, but following the war he earned a Master's degree from the University of Washington, followed by a PhD in 1973 from United States International University, known now as Alliant International University in San Diego, California.
Milton has had a long career in education, serving as teacher and principal in Sunnyside and Richland, Washington; Superintendent of Schools for Anacortes, Marysville, and Federal Way School Districts in Washington State; Deputy Superintendent of Schools in Oakland, California; and Division Superintendent for Prince William County, Virginia School District in Manassas, Virginia.
He also served as Deputy Executive Director for the American Association of School Administrators in Arlington, Virginia. During his work in Virginia as superintendent, he taught graduate courses in educational administration as Adjunct Professor for the University of Virginia and (VPI) Virginia Polytechnic Institute and State University at their northern Virginia centers. He continues to work for several educational technology firms from his home office in Washington state.
Milton Lee Pritchard Snyder PhD, is a direct descendant of grandparents John Wesley Snyder, Mary Elizabeth Cooper, Walter Icen Pritchard and Jesse Lee Jorda— all born in the State of West Virginia. Three of his grandparents moved to the State of Idaho in the 1890s and early 1900s, while one, Walter Icen Pritchard remained in the Buchannon and Weston area much of his life.