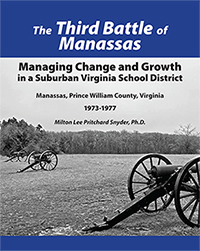 EDUCATION / Administration / General
(Paperback) $17.95
ISBN: 978-0-9967545-0-7
To purchase click on link:
https://www.createspace.com/5702295
Also available at Amazon and other booksellers.
---
(Hardback, case laminate) $29.95
plus shipping and handling
ISBN: 978-0-9967545-1-4
Your bookstore or library can order from Ingram.
The Third Battle of Manassas
Managing Change and Growth
in a Suburban Virginia School District;
Manassas, Prince William County, Virginia. 1973-1977
Milton L. Snyder, Ph.D., served Prince William County, Virginia — as Division Superintendent of Schools from 1973 to 1977 — during a period of dynamic population growth and political upheaval which impacted both the governance and management of the school system.
Upon arrival in 1973 he stresses to the news media that he is coming to the county with a completely open mind and looking forward to creating conditions in the school system for community involvement.
In these essays he shares his recollections of the activities, successes, and sometimes failures of leaders in the county during this formative period, and the impact of their actions on the school system. These are his individual views concerning the various actions of the school board, the county board of supervisors, and others associated with the schools and with the county government during the years he served as superintendent of schools.
The accomplishments of teachers, district administrators and school board members during this period prompted the writing of these essays. Included are local newspaper articles and opinion pieces that covered events, along with research letters and other pertinent materials.
Out of his cauldron of experience, he learns that it is easy to criticize people in charge. It is much harder to be the person in charge.
Books by Milton Lee Pritchard Snyder, Ph.D.
His first book is a memoir and book of the Snyder family history. Click here.
In 2015 Milton Lee Pritchard Snyder, Ph.D., has wrote of his 1973-77 experiences as Division Superintendent of Schools in Prince William County, VA. Click here.
In 2016 Milton presents "Radiant: The Dolores Jean Gibbons Story." This third book is a tribute to the educational administrative talents of his wife, Dolores Jean Gibbons, M.Ed. Click here.