Biography/Autobiography: Memoir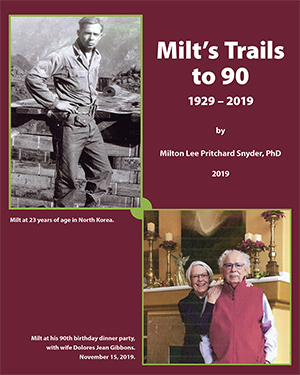 (Paperback) Written for his youngest offspring and future generations. Available to the family.
ISBN: 978-0-9967545-6-9.

Throughout the year leading up to his 90th birthday, Milton cobbled together into bullet-list form his memories, advice, relevant facts, and a bit more of his ephemera.
In this volume he lists information on the trails that he followed through the various stages of his life. Here we find an eclectic mix of things that happened and some words of wisdom for succeeding generations.
He continues to stress the benefit of a good public education for everyone, remembering that Horace Mann (who initiated the public school plan) had emphasized that a republic could not long remain ignorant and free. Today in 2020, we can see the ramifications of ignorance and malfeasance in leadership at the highest level of our government.
Milton doesn't shy away from his political views and is saddened by the state we find our country in during these challenging times.